Have you forgotten your smartphone's password or unlock pattern and can't access it anymore? Fortunately, this common setback is not hopeless. This article provides you with several solutions to access a blocked phone. The techniques offered range from the most accessible to the most technical.
Smartphones now contain all of our personal data, professional, financial and health. The screen lock is therefore one essential security measure to protect the privacy of your data. That said, it is not uncommon for users to forget their pattern or password and become "locked out" as a result. Nowadays, many people unlock their device with biometric ID and lose the habit of using passwords.
Before we get to the heart of the matter and talk about unblocking, let's emphasize that this situation is avoidable. As the saying goes, "prevention is better than cure". When you receive a new Android smartphone, a few preparatory manipulations can save you a lot of inconvenience in the future.
The first steps to take when you receive your new Android smartphone
Always link your Android smartphone to your Google account
Make sure it always has Wi-Fi or cellular connectivity
Enable location services of your device
Activate "Find my device" on your terminal
Use the Smart Lock feature or smart lock available from Android Lollipop
The latter feature exempts you from entering your password as long as you carry your phone with you, "or when it's in an authenticated place or near your connected devices".


To activate the "Smart Lock" function:

Enter Settings ⇒ Security & Privacy ⇒ Other Security Settings ⇒ Smart Lock
Define, or all at once, the "Detecting the device while wearing"THE "verified locations"and the "Verified devices"

note that to change the Smart Lock settings, you must enter your current passwordtherefore it is best to make these settings as soon as you receive your device.

Activate it Developer mode on your smartphone
To go even further and make sure you can troubleshoot your device, it is a good idea to enable developer mode on your smartphone.

Meet inside Settings ⇒ About phone
Tap repeatedly at the very bottom of the screen "Build Number" to a message informing you about the appearance of the menu "Developer Options" appears in the system screen
Go back a page
Go to the screen System ⇒ Developer Options
Crane "Use developer options"
In the sub menu Debuggingactivate the button "USB debugging"
If your computer is running Windows, you should download the USB driver for your smartphonean unnecessary operation if you are debugging your Android on a system running Linux or macOS.

"Browse my computer for driver software"
click on " To leaf through " and locate the usb-driver folder. Windows 10 or 11 will install the correct driver for your device
Download Android Debugging Bridgeand extract the file
From now on, if there is a problem with your smartphone, you can access the file system from your computer and resolve the issue using the Windows command prompt.
5 techniques to unlock the lock screen of your Android device
1. Reset via Google's "Find my device" feature
If you really forgot your password, this is the one fastest way to remote reset your android smartphone. Google's "Find My Device" feature not only locates a misplaced device, but can also lock it, ring it, or wipe its data.
To make the procedure go wellmake sure your smartphone is well connected to the internet (otherwise go to technique number 3).
Likewise, if you have not activated the function "Find my device" first go directly to technique 2.
If you meet all these conditions, the procedure to follow is very simple:
Visit the website " Google Find my deviceI" from your computer
Select the device you want to restore and click "Reset the device". This will remove the lock password
2. Use recovery software like DroidKit
Droidkit is a software package which acts like a real swiss army knife for android. This program, available on Windows and macOS, is unfortunately for a fee, but allows you to repair or recover lost data, reinstall or update the operating system, free up memory or bypass Google account verification on Samsung devices. It supports nearly 20,000 phone models, with the notable exception of OnePlus, whose support is imminent.
It has a very intuitive interface, making it accessible to all audiences.
Droidkit is an effective tool, but it's not the only one to offer this kind of service. The only drawback, and it is significant, is thatit paid.
Here is the procedure to follow if you forgot your password, but you have activated "USB debugging" on your smartphone. This procedure is not that complicated and will not cost you anything.
3. Erase PIN file with Android Debug Bridge (ADB)
This technique requires the soil to be prepared in advance andhave followed the preparatory steps described at the beginning of this article.
First, connect your smartphone and your computer with a USB cable
ADB is a tool designed primarily for Android application developers. It allows you to interact with Android emulators and devices connected to your computer. This program gives us access to the stored KEY file which contains all your identification data be it your passwords, your patterns and other fingerprints. Removing the latter will have the effect of make the lock screen disappear after reboot.
You should start ADB manually in its own directoryfrom the Windows command prompt.
To do this :
Go to the folder where you extracted ADB
Right-click on the title folder "platform-tools_r…/platform-tools"
Choose the option "Copy as path"
Open the order " To carry out… " with Windows + R shortcut
Enter cmdand press Enter
Type "cd/d"then do Ctrl + V as in capturing, make sure to remove the quotes and then press Enter

You should be now in the correct folder to run ADB.
To check if this is indeed the case, just type 'adb' and then Enter.
If the list of Android Debugger Bridge commands appears on the screen, it means that you are gone!
Type "adb shell rm /data/system/gesture.key" (still without the quotes)
Restart your smartphone.
The lock screen should be gone.
note that this method is temporaryand that a new PIN must be set for the next reboot.
4. Reset the smartphone manually (Hard Reset)
If you came here, that's becausenone of the proposed solutions have worked so far. All that remains for you is the nuclear option: reset your smartphone to Android. This method will certainly work, but it has the disadvantage that it will delete absolutely all data on your device, be it applications, call history, SMS/MMS, photos, music and other videos. That's the reason it is a good idea to regularly back up your smartphone to your Google account (an action that can be automated).
To unlock the smartphone, we just reboot it to its original state (the so-called factory reset).
To do this, the manipulation is very simple:
Turn off your smartphone or tablet
Reboot everything in recovery mode (handling may differ per device, if in doubt consult the manual of your phone):
In general, we like the tests'At home', 'Volume up' And 'Currentsupported at the same time
In the menu without interface, go to the line 'Wipe data/factory reset' with the button 'Reduce volume' to go downstairs
Confirm your choice by pressing the ' keyCurrent' from your device
Restart your smartphone or tablet using thechoice 'reboot system now' from the menu.
Your Android system has been refurbished.
Once the reset is complete, you will need to re-enter your Google credentials to be able to use and reconfigure the device again.
4. Use the Find My Device app if you have a Samsung Galaxy
If you own a Galaxy smartphone, be it a Galaxy A54 or a Galaxy Z Fold 4, Samsung offers a similar service to "Google Find My Device". It's on your terminal as "Find My Mobile". You should you must have created a Samsung accountand make sure your carrier is not blocking this service.
Open the app and sign in with your Samsung account credentials
click on "Lock my mobile device"
Then set a new password/pin in the first field and click 'Key lock'
Your new code will be installed. After a few minutes, you just need to enter it on your smartphone to unlock it
5. Bypass the non-native lock screen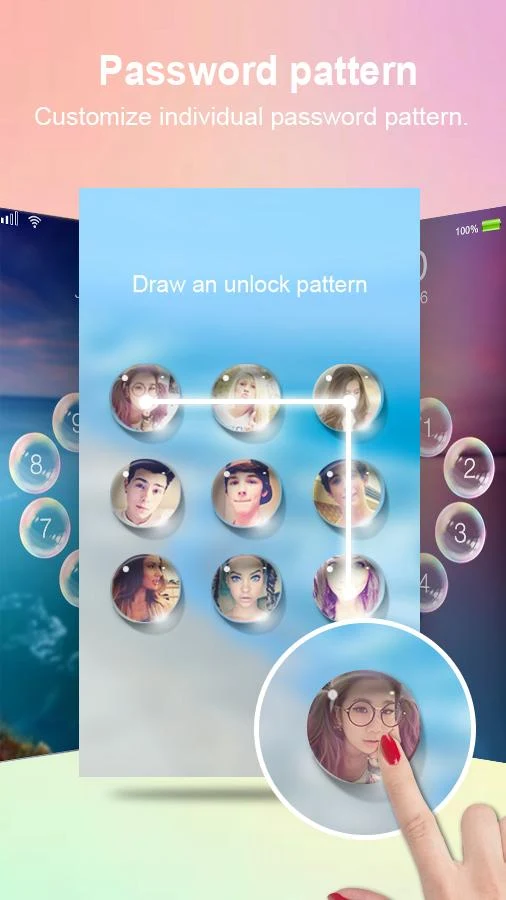 The Play Store is full of alternative lock apps, for example DIY Locker. If you use one of these instead of the native service :
Start your smartphone in safe mode (usually possible by long pressing the on/off button)
Confirm by pressing 'Eradicate'
Long press the button 'Eradicate'causing the option to appear "Reboot in safe mode" after a few seconds:
From there you just have to go to the application settings and clear the data of the application responsible for the lock screen or remove it completely.
If you know of any other faster or more effective ways to unlock your Android device's lock screen, don't hesitate to share them in comments.